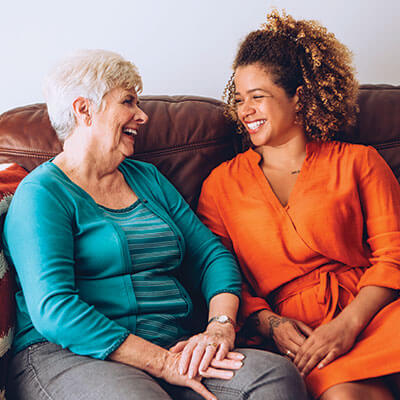 Care Partnership is an integrated approach to connecting providers with the seniors they support. At Inspired Senior Care, we envision a future where seniors reside in communities and the caregivers entrusted with their well-being enjoy a culture built upon understanding, supported with respect, and dedicated to developing genuine relationships.
Inspired Senior Care helps senior living communities and senior support organizations of all sizes develop a relationship-based culture of meaningful and personalized care by providing engaging LEARNING tools and proven know-how TO HELP GUIDE TEAMS in how to effectively and independently serve the SOCIAL AND EMOTIONAL NEEDS of today's seniors.
How can you begin transforming the transactional care seen all too often in today's senior environments? By implementing the BUILDING BLOCKS OF INSPIRED SENIOR CARE:
1. Brain Change – Understanding how the brain is changing and adapting our approach
2. Communication – Using more than words to connect
3. Damaging Interactions – Identifying and eliminating harmful interactions
4. Genuine Relationships – Focusing on relationship before tasks
5. Language Matters – Explaining how what we say affects how we think and interact
6. Meaningful Engagement – Supporting personalized interactions & opportunities
7. Positive Interactions – Making interactions uplifting and encouraging
8. Supportive Environment – Supporting one that is friendly, familiar, forgiving, functional, and free of free from fear
9. Be Wildly Curious – Seeking their unmet needs
10. What If – Exploring various person-centered approaches
11. Well-Being – Creating quality of life for everyone
12. Strength-Based Perspective – Focusing on strengths, not weaknesses
The Inspired Senior Care training kit provides communities and agencies serving older adults with a robust series of interactive resources that work hand-in-hand to arm your team with the essential knowledge, skills and understanding to establish, enhance or refresh your community's culture of care.
Want more content that will elevate the care partnership within your organization? Share the BUILDING BLOCKS Newsletter with a friend!