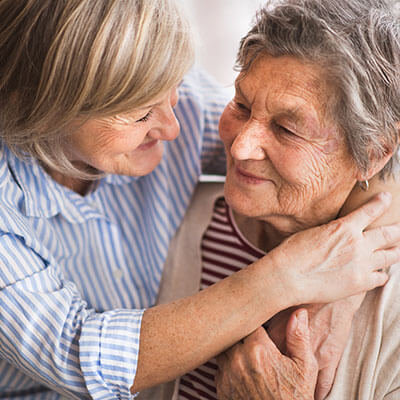 Inevitably a resident's care and needs are going to change from time to time, especially those struggling with memory loss or dementia. Clinically speaking, there are 7 stages of dementia. Do you know what they are? Here is a list and some predominant signs from each stage:
Stage 1:  No impairment
· People with no dementia are considered in this stage.
· No Memory Loss
· Normal Function
Stage 2:  Very mild cognitive decline
· Symptoms not evident to loved ones or doctors
· Misplaces familiar objects
· Forgets names
Stage 3:  Mild cognitive decline
· Slight difficulty concentrating
· Decreased work performance
· Increased forgetfulness
· Gets lost more frequently
· Difficulty finding right words
· Loved ones begin to notice
Stage 4:  Moderate cognitive decline
· Difficulty completing tasks
· In denial about symptoms
· Socialization problems, i.e. withdrawing from family or friends
· Forgetting recent events
· Doctors can detect cognitive problems
· Cannot manage finances
· Cannot travel alone to new places
Stage 5:  Moderately severe cognitive decline
· Major memory deficiencies
· May need help with basic activities, i.e. dressing, bathing
· Forgets details such as address/phone number
· Doesn't know date or time
· Doesn't know where they are
Stage 6:  Severe cognitive decline
· Requires help with basics, dressing, bathing
· Forgets names of family members
· Forgets recent activities
· Forgets major events in past
· Difficulty counting down from 10 to 0
· Incontinence issues
· Difficulty speaking
· Personality and emotional changes: Delusions, Compulsions, Anxiety
Stage 7:  Very severe cognitive decline
· The woeful and unfortunate reality is, this is the end stage, and probably a good time to consider planning your loved one's life celebration that will graciously honor the cherished life they lived.
Will each stage require intervention or a caregiver relationship? Can you easily recognize the stages? Is your staff prepared and able to adapt the kind of care to match the residents' frequently changing needs?
Inspired Senior Care has just the right program to train your staff so they are meeting all their changing needs! BUILDING BLOCKS OF INSPIRED SENIOR CARE provides sustainable dementia education. It begins with Brain Change – understanding how the brain is changing and adapting our approach. Notice the key word, adapting? Working with dementia or memory loss residents will require adaptation! The 12 BUILDING BLOCKS offers specific, dementia care knowledge woven throughout, making the program suitable for any environment that touches those experiencing cognitive changes.
Inspired Senior Care's core value is building a future where seniors reside in communities and the caregivers entrusted with their well-being enjoy a culture built upon understanding, supported with respect, and dedicated to developing genuine relationships. It's all possible! Start at your community today by accessing the 12 Building Blocks of Inspired Senior Care.
LET INSPIRED SENIOR CARE HELP YOU TRANSFORM YOUR CULTURE!